Kaipara kerbside recycling
Recycling is an important part to our waste management, yet it can often be confusing because every council treats recycling differently.  Waste Management systems will continue to change and improve, for now we aim to provide you with the most up to date information on how to correctly manage your waste.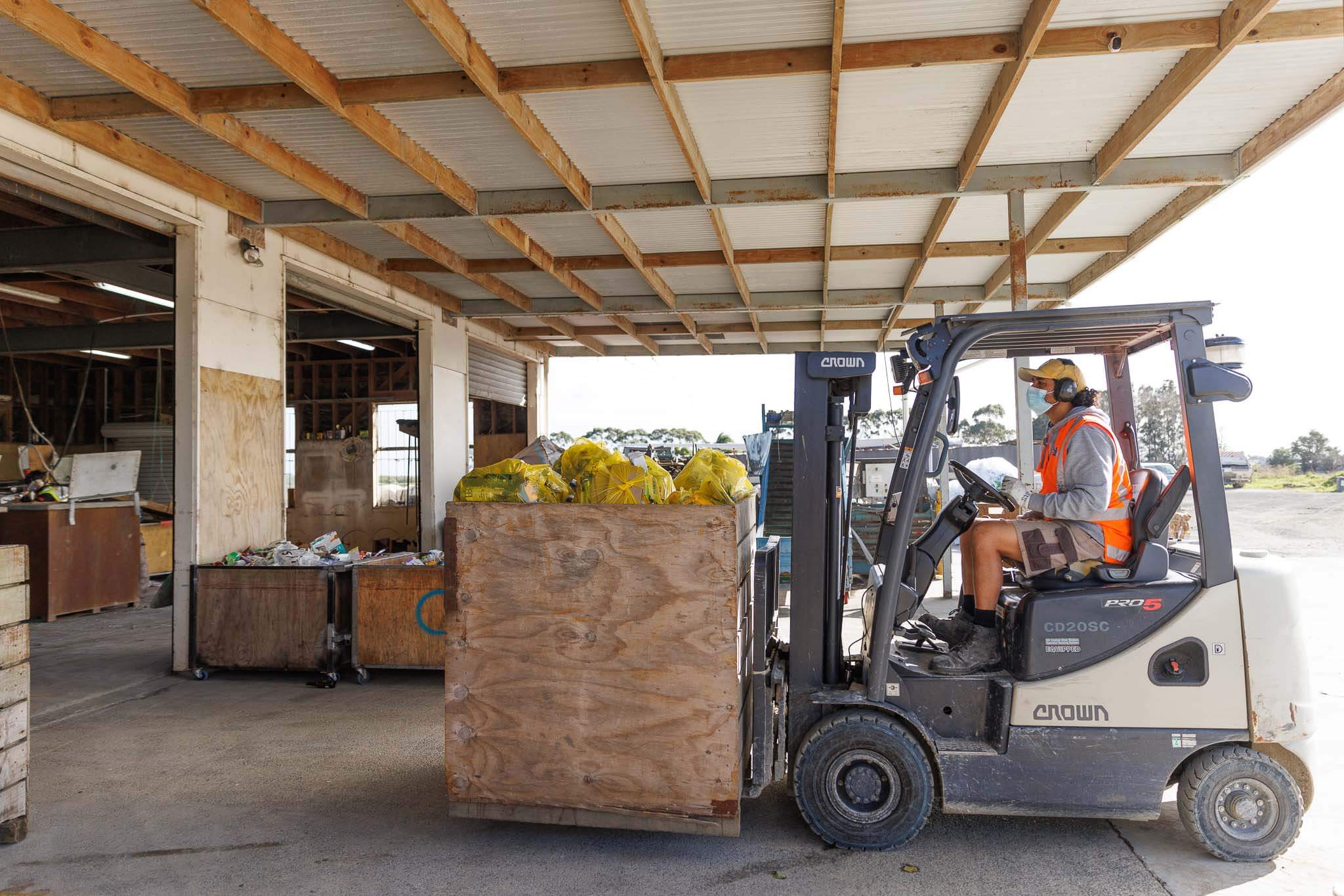 How recycling works in Kaipara
Kaipara Refuse Ltd is the official collector & processor of kerbside recycling in Kaipara.  They are based in Ruawai and cover Mangawhai, Paparoa, Whakapirau, Maungaturoto, Kaiwaka, Baylys Beach, Ruawai, & Dargaville.
The system is "user-pays" – and not included in the council rates.  This is why you need to purchase one of the official yellow bags to put your recycling in. As part of the Kaipara District Long term plan, recycling charges may be moved to become a part of rates, whereby each household would be supplied with a council-owned bin. Until then, recycling bags are the only option for kerbside collection in Kaipara.
Have questions about recycling in Kaipara?
Visit our Recycling FAQ:
The Yellow Kerbside Recycling Bags
All clean recycling should be placed in the official Kaipara Refuse yellow recycling bags
Bags can be purchased from your local grocery outlet.
Refer to the attached flyer for a list of all eligible items for recycling or download here
Please remember to wash and squash your recycling!  Dirty/soiled items have to be redirected into landfill.
Bags are collected from the kerbside on various days (see collection days below for your area).
Where do the yellow bags go?? Watch the video here
Collection Days
EAST
Monday            Mangawhai
Wednesday      Paparoa, Whakapirau, Maungaturoto, Kaiwaka
NORTH
Tuesday           Baylys Beach
Thursday         Ruawai, Dargaville
Want to visit a depot to recycle instead?
Wondering what happens with the yellow bags?
About Kaipara Refuse
Kaipara Refuse is an amazing locally owned and operated business their main depot and offices in Ruawai, and a Resource recovery centre at Dargaville – but they are much more than just your regular waste company.
Kaipara Refuse exists to serve two purposes:
to financially support the Kaurilands Skills Centre – a residential facility that has been running since the 1990's and provides homes for about 20 people with intellectual disabilities
to create roles for the Kaurilands community, to help them get out into the community and contributing valuable skills.
Kaipara Refuse workers hand sort your recycling – so making sure your recycling is well rinsed with the correct items in the bag is appreciated!
When you buy a yellow recycling bag (or a blue rubbish bag), you are directly supporting the Kaurilands Skills centre, and you're supporting other people with disabilities in the district by way of employment.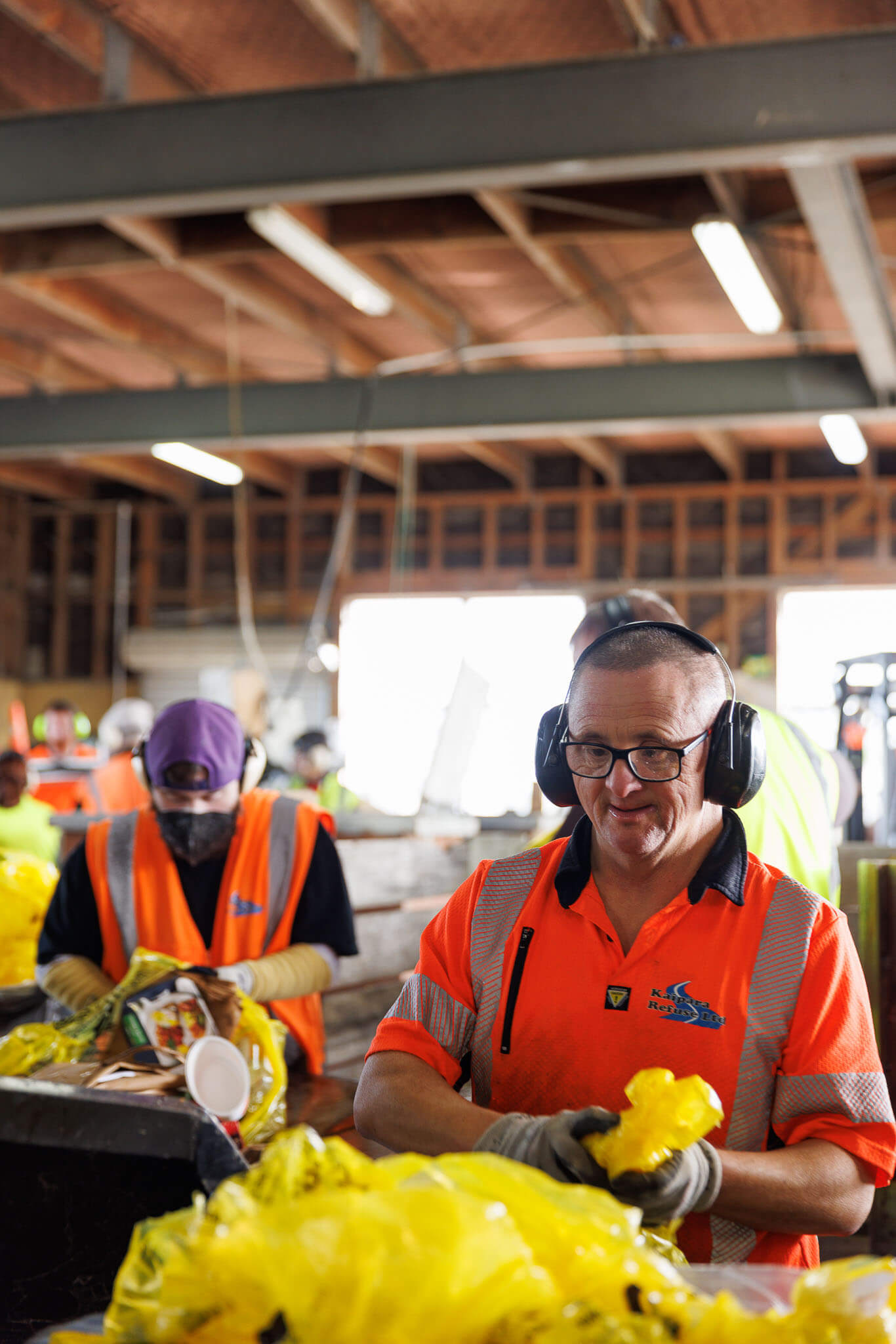 Want to recycle other
items (e.g: e-waste / whiteware?)
Find out what you can take where with our A-Z guide!
Depots for recycling dropoff
You can of course visit your local recycling depot if you would prefer:
*
Your content goes here. Edit or remove this text inline or in the module Content settings. You can also style every aspect of this content in the module Design settings and even apply custom CSS to this text in the module Advanced settings.
Why do we use Yellow PLASTIC BAGS for recycling in kaipara?
Because our recycling isn't paid as part of our rates, we use a "user pays" system in the Kaipara District whereby people pay for the service via the cost of the bag. The yellow bags are also recycled with soft plastics.
The council is working on moving to recycling bins to be included in rates, although this has now been shelved until at least 2025.
Who picks up recycling in kaipara?
Kaipara Refuse Ltd is the official collector & processor of kerbside recycling in Kaipara.  They are based in Ruawai and cover Mangawhai, Paparoa, Whakapirau, Maungaturoto, Kaiwaka, Baylys Beach, Ruawai, & Dargaville.
Watch our video about their work here!
Why can't plastic numbers other than 1, 2 and 5 be recycled?
1, 2 and 5 plastics are classed as "easy to recycle" and have several possibilities for reuse.  Offshore recycling plants are no longer accepting our trash (and rightly so!)  In NZ, we cannot recycle anything but #1, #2 and #5 plastic and some soft plastic, and it is likely other types will be banned here soon anyway.
Currently all other plastic in NZ goes to landfill.
Can we put soft plastics into the yellow bag?
No.  Soft plastics are currently not collected in the kerbside recycling.  You can however take your soft plastics to your nearest Soft Plastics Recycling bin, located at selected supermarkets.  A list of current locations of these bins can be found here: www.recycling.kiwi.nz/store-locator
Where do I find the number on my plastic?
The number will generally be on the bottom of the plastic container, inside a triangle recycling symbol.  Sometimes you do have to look quite hard!  If there is no number to be found, unfortunately it will have to go into landfill.