It is no secret that we are big fans of compost, so when compost awareness week comes around, we are happy to take the opportunity to spread the word! In Kaipara, 41% of our kerbside landfill waste is organic (compostable) – so we have a huge opportunity to be diverting that waste from landfill and into compost systems, and then right back into our soils to grown more nutrient rich food.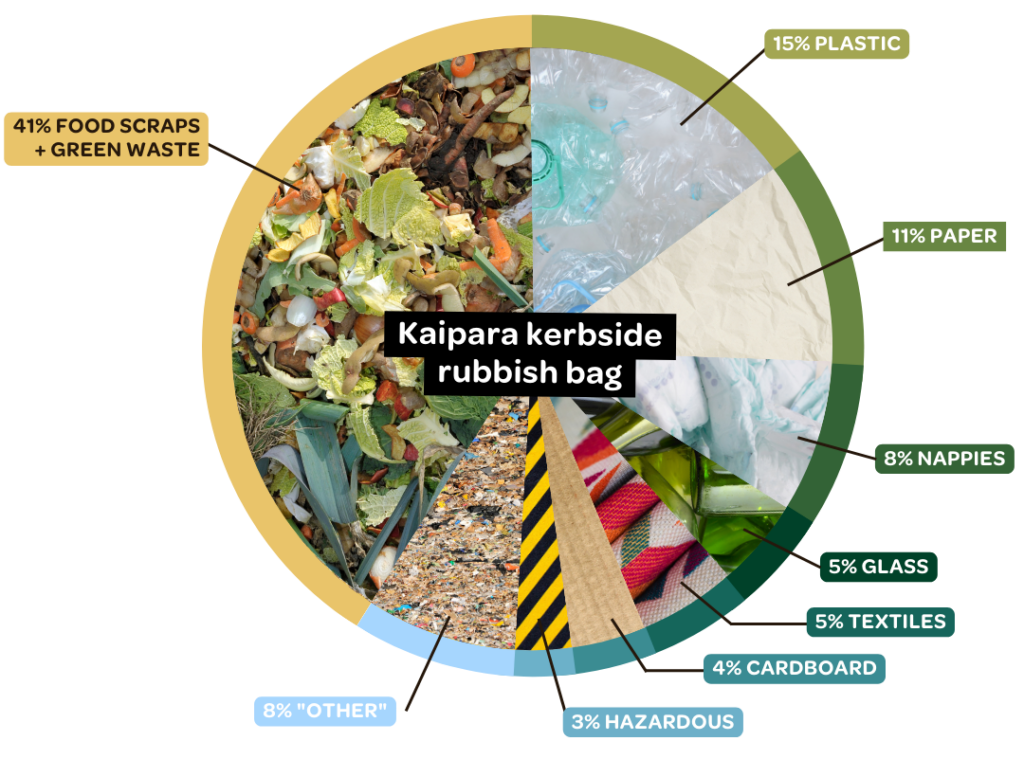 Compost is a mixture of decomposed organic material and is used as a rich soil fertiliser. Composting is a process which mimics nature by recycling organic material. It needs the right combination of ingredients and sufficient time for everything to break down completely before the compost is ready. Generally, the ingredients used to make compost come from our gardens and kitchens (food scraps), although organic material is anything that was once living.
So why is it good to compost?
When we send food scraps to landfill this resource is not only wasted but as it breaks down it creates methane which is a harmful greenhouse gas. By composting our food scraps and combining with carbon sources like paper, saw dust, dried leaves, mulch etc we are creating richer more healthy soils to grow food in, AND reducing harmful emissions!
Many of our soils worldwide are very depleted and need the nutrients put back into them. Many of the minerals needed in the soils can be found all around us in things like seaweed, animal manure, comfrey leaves, fish bones and the list goes on! For that reason, composting is a relatively low cost way to make a decent dent in our emissions reduction, and a fantastic way for households to play their part in making our soils healthy.
About our kerbside food scrap collection service
With our small Mangawhai based kerbside collection service, we have now been composting food scraps for an average of 50 households plus some local businesses – for 2.5 years – and the resulting wins are amazing. So far we have:
Diverted 27 tonnes of food waste from landfill, and created about the same in nutrient rich, healthy compost.
Created local jobs to collect and keep the compost running
Grown a community of amazing volunteers to help with our compost
Educated dozens of locals around the importance of composting and reducing food waste
Supplied 5 tonnes of compost to our local Mangawhai Community Garden
What you can do to start composting
Register for one of our compost workshops
Keen to get your hands dirty at home? We run free compost workshops a few times a year, where you can learn about composting, worm farming and bokashi. It is a brilliant way to get started, or to learn and troubleshoot if you are already composting at home. Register your interest here!
Join our kerbside collection service
If you live in Mangawhai, you can join our collection service. It is a great way to compost if you have little time or space to do so yourself during the week, plus it is supporting a wonderful community run initiative and our local community gardens. Learn more and Sign up for the service here!
Browse our resources to help you on your way
We have put together some resources for you to download to help get you started. Check them out here!
Join Sharewaste
Sharewaste is an app you can join for free – where you can find someone in your area who has a compost and is willing to share space in it! There are a few locations dotted through Kaipara – look it up and join here!
May your compost journey begin!
Our dream is to see the whole of Kaipara diverting food scraps from landfill and composting it instead – and we will be working toward that goal.
We look forward to seeing how you progress with composting – do let us know how you are getting on! If you have any questions – contact our resident compost queen – steph@sustainablekaipara.org.