Matariki officially enters our holiday calendars for the first time this year, and with it lots of community celebrations. The reappearance of Matariki in our skies signifies Te Tau Hou Māori – the Māori new year. It is a time for coming together to remember those who have passed, to gather and share kai, and to look forward and plan for the future.
There are nine stars recognised in Te Ao Māori within the Matariki cluster, each symbolising different things. The following post is an overview of these meanings and how they might be used to set some actions / intentions in relation to the taiao (natural environment). More comprehensive information on Matariki can be found on the Living by the Stars website – by the amazing Professor Rangi Matamua.
WAITĪ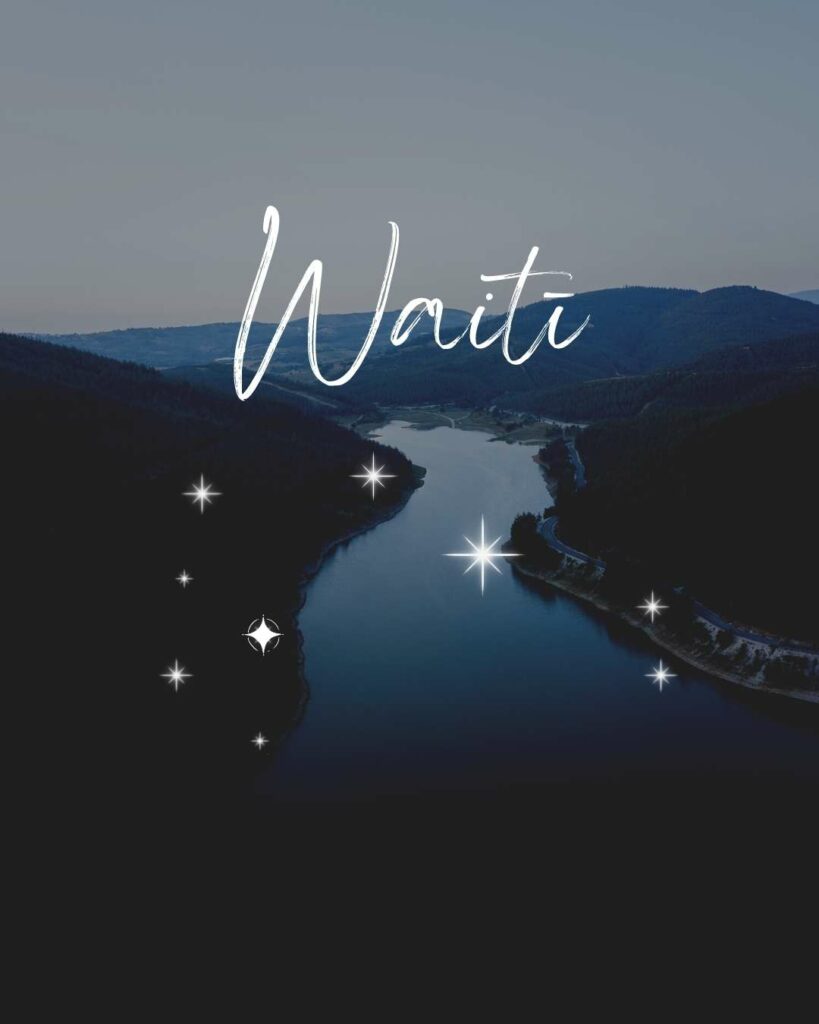 Waitī is connected with all fresh water bodies (lakes, rivers, streams) and the food sources that are sustained by those waters.
Here are a few ideas for how Waitī can inform your mahi with the taiao:
GET TO KNOW YOUR LOCAL FRESHWATER BODIES
Do you know much about your local streams, lakes or rivers and the health of the water and the species living in them? Learn and see if there are any opportunities for water improvement – ie rubbish pickups, tree planting, drain diversion, fencing off livestock.
WETLAND PLANTING
Get involved in a wetland planting. Did you know that wetlands are known as the lungs of Papatūānuku? They act as giant filters that filter out excess nutrients and sediment. They also provide valuable habitat to many threatened species! See the work by Kaipara Moana Remediation for wetlands planting.
FOLLOW @THATFISHCHICK
Patricia Clark is a local Kaipara environmental scientist, and has started an instagram account – @thatfishchick – showcasing her work with native NZ fish and insights from her mahi. Learn from Patricia and follow her adventures!
WAITĀ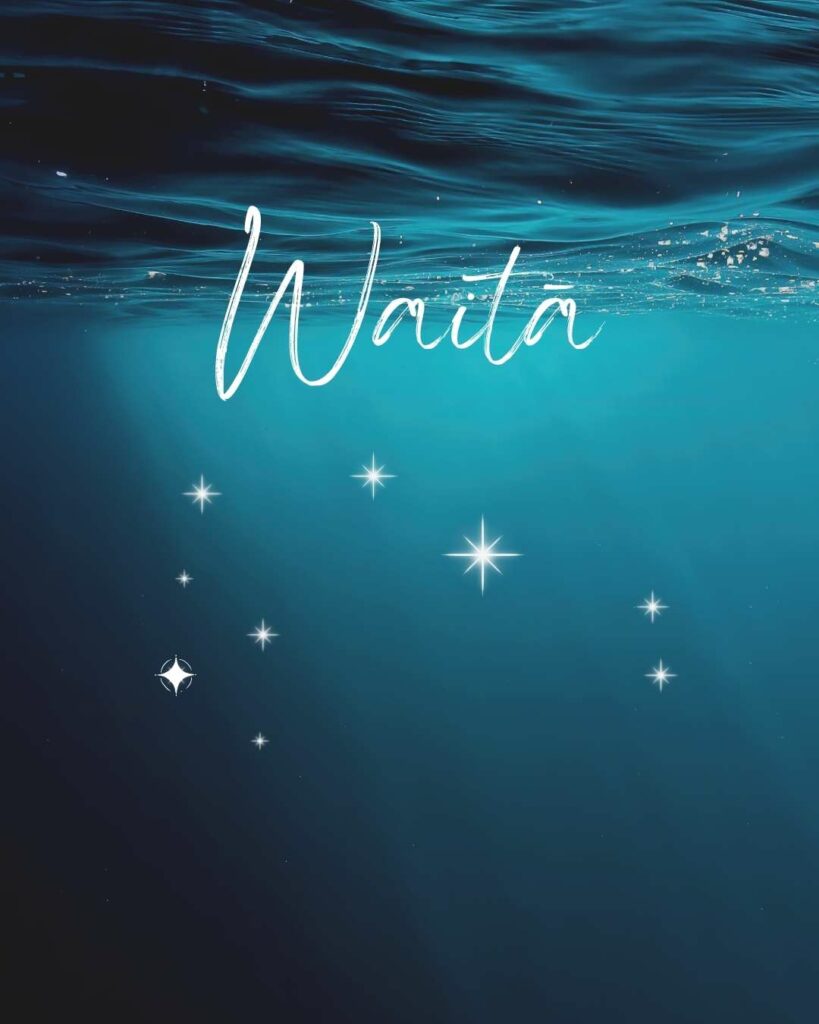 Waitā is associated with the oceans, and all the food sources within it.
Here are a few ideas for how Waitā can inform your mahi with the taiao:
JOIN THE LITTER INTELLIGENCE TEAM!
Every few months, a team of locals collect rubbish from Mangawhai beaches and collate data from their finds to support the "Litter Intelligence" project by Sustainable Coastlines. Data is key to being specific about how we tackle ocean litter issues. Join us for this important mahi!
FOLLOW THE WORK OF KAIPARA MOANA REMEDIATION
A decade-long, $300 million programme setting out to restore the mauri and health of Kaipara Moana. The project will take the commitment and action of everyone who lives and works in the catchment.
Joint committee meetings for the Kaipara Moana Remediation Programme are held every two months around the Kaipara and are open to the public (COVID-19 settings applicable).
SUPPORT "SAVE OUR SANDS"
Save our Sands has been working to challenge the resource consent to mine for sand along the Mangawhai-Pakiri stretch. They won the the first challenge, there are two to go. Follow and support SAVE OUR SANDS!
HIWA-I-TE-RANGI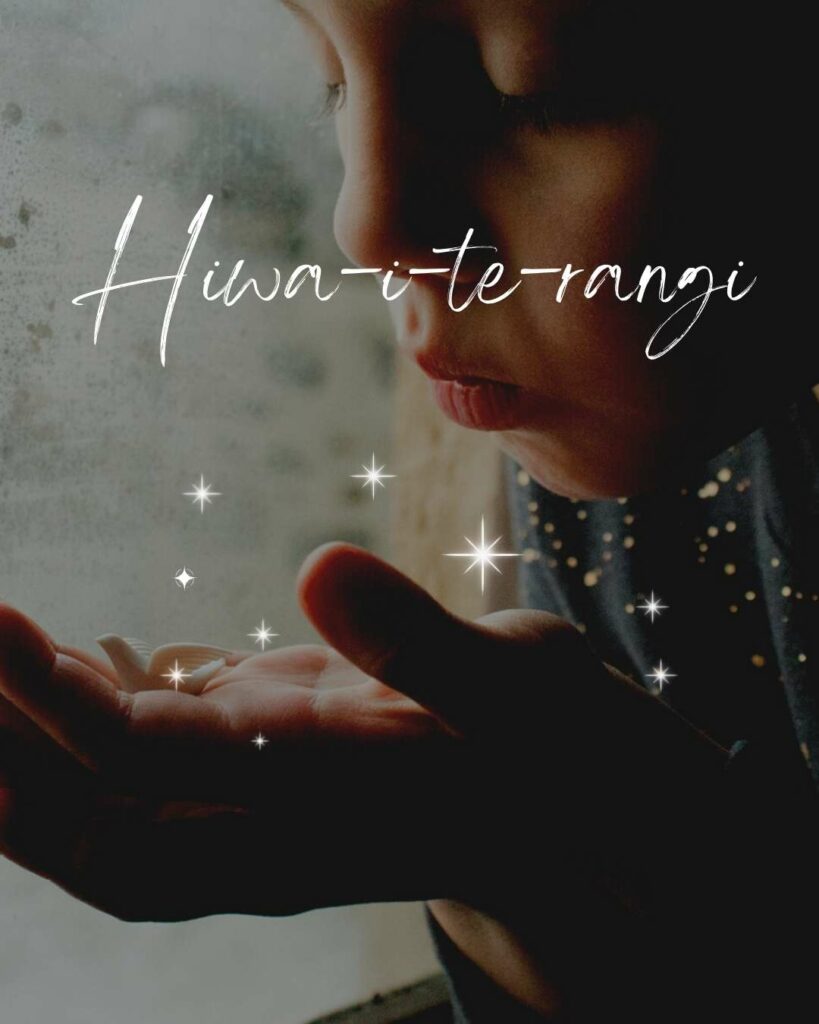 Hiwaiterangi is the star connected with granting our wishes, and realising our aspirations for the coming year.
Here are a few ideas for how Hiwa-i-te-rangi can inform your mahi with the taiao:
HOLDING ON TO HOPE
In a time where news can seem gloomy , the act of holding on to a prosperous vision of our future is a radical and much needed one. How can you begin to visualise such a future?
Is this something you could aspire to?
SET ENVIRONMENTAL GOALS:
"I want to halve my weekly rubbish by December" … "I want to grow my own plastic free salad supply this summer"…
"I will ride my bike for all short trips to the store" … "I will turn off appliances and reduce my power useage this quarter"…
Set some goals to change your habits!
LEARN ABOUT TE AO MĀORI
Indigenous understandings and views of the environment hold knowledge and keys to unlocking some of the challenges we face at the moment. Te Ao Māori – the Māori world view can connect us to the environment in new and enriching ways. A great starting point is to learn the language – te reo Māori.
Start your learning journey!
Classes at Te Whai Community Trust
Classes at Te Hana Te Ao Marama
PŌHUTUKAWA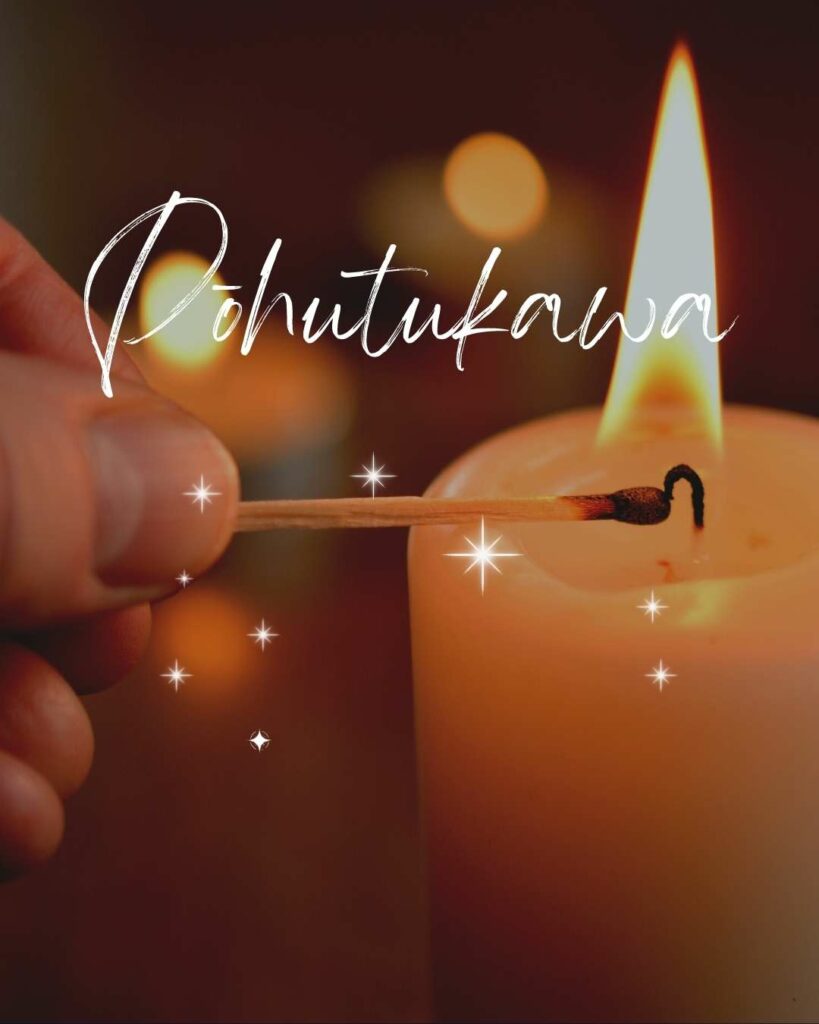 Pōhutukawa is the star connected to those that have passed on, the rememberance of them, and the grieving of them.
Here are a few ideas for how Pōhutukawa can inform your mahi with the taiao:
BE A GOOD ANCESTOR
You may be interested in leaving behind a legacy for your future generations. What might you do today that would leave Te Taiao in better shape tomorrow?
LOOK AFTER AT-RISK SPECIES
Pōhutukawa also brings to mind various species that have sadly become extinct. There are many more species that need our help and protection to survive and thrive. Perhaps you could help with a pest trapping program? Maybe you could plant habitat for an at-risk species?
IMAGINE THE FUTURE
Sometimes the actions we take today may not be seen or enjoyed immediately, but will make a difference tomorrow. Like planting a native forest – you may not get to enjoy sitting beneath a kauri tree that you plant – but future generations will.
URURANGI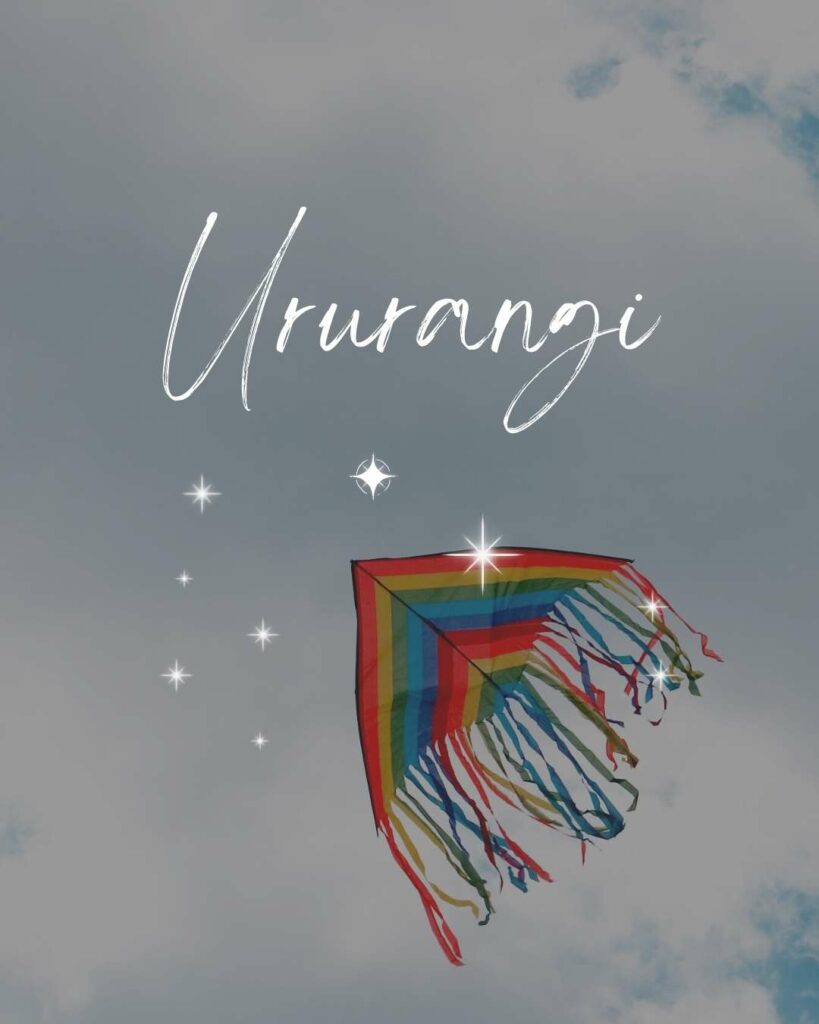 Ururangi is the star connected with the many different winds (for which there are over 750 different names in te reo Māori!!!)
Here are a few ideas for how Ururangi can inform your mahi with the taiao:
LEARN ABOUT MĀORI NAVIGATION
Ururangi and observation of the winds and skies provides linkages to the first peoples who arrived in Aotearoa. Navigation of the waka hourua used to travel across the Pacific utilises wayfinding. The stars, moon, sun, wind, and birds, are used for navigation. The path of the sun and the rising and setting of specific stars during a journey are used to steer the waka in the right direction
FOLLOW THE MARAMATAKA
The maramataka is the Māori lunar calendar and is shaped by the phases of the moons. You can learn to follow the seasons using the maramataka – plant your garden, and fish by the moon phases. The rhythms of the maramataka can help bring you into more alignment with the natural world.
The Living by the stars website is a fantastic starting point for your learning journey.
AIR QUALITY IMPROVEMENT
Ururangi encourages us to think about how to improve air quality. Reduction of CO2 and Methane are vital to improving our atmosphere. Actions you can take are:
-Ensure your car is well tuned and efficient, avoid car journeys where possible (walk or bike instead).
-Composting food scraps ensures it doesn't end up in landfill, letting off methane as it rots.
WAIPUNA-Ā-RANGI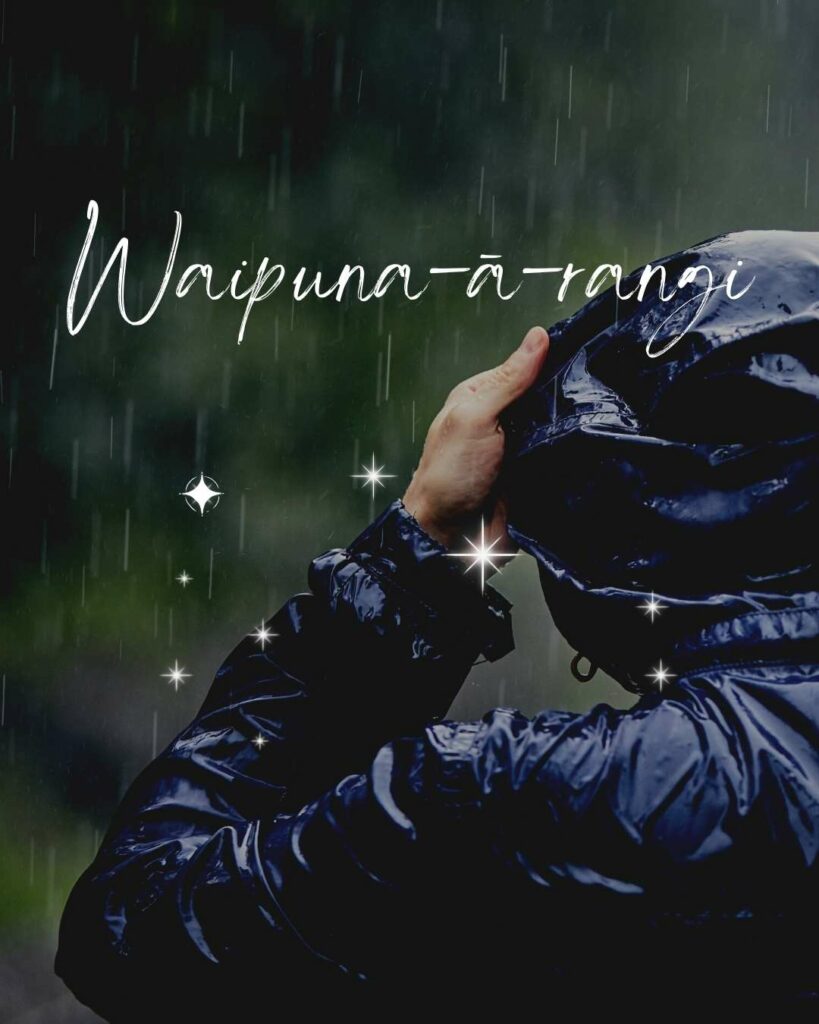 Waipuna-ā-Rangi is connected with the rain, storms and hail.
Here are a few ideas for how Waipuna-ā-Rangi can inform your mahi with the taiao:
TRACK THE RAINFALL
Getting to know the average rainfall in your area can teach you about weather patterns and connect you to the environment. You can make your own using an empty plastic soda bottle! Instructions are found here!
REDUCE WATER CONSUMPTION
We are reliant on rainfall for our water use – whether you are on tank water, or on a town supply – rainfall is vital to our access to water. What can you do to reduce/conserve water in your whare and how can you get your whānau on board?
JOIN A TRASH PICKUP
Our drains and roadsides continue to harbour alot of litter! As soon as it rains, that litter gets washed down stormwater drains and into our beautiful estuary, and out to sea. Join the Mangawhai Tavern Rubbish Pickup to help reduce our litter!
TUPU-Ā-NUKU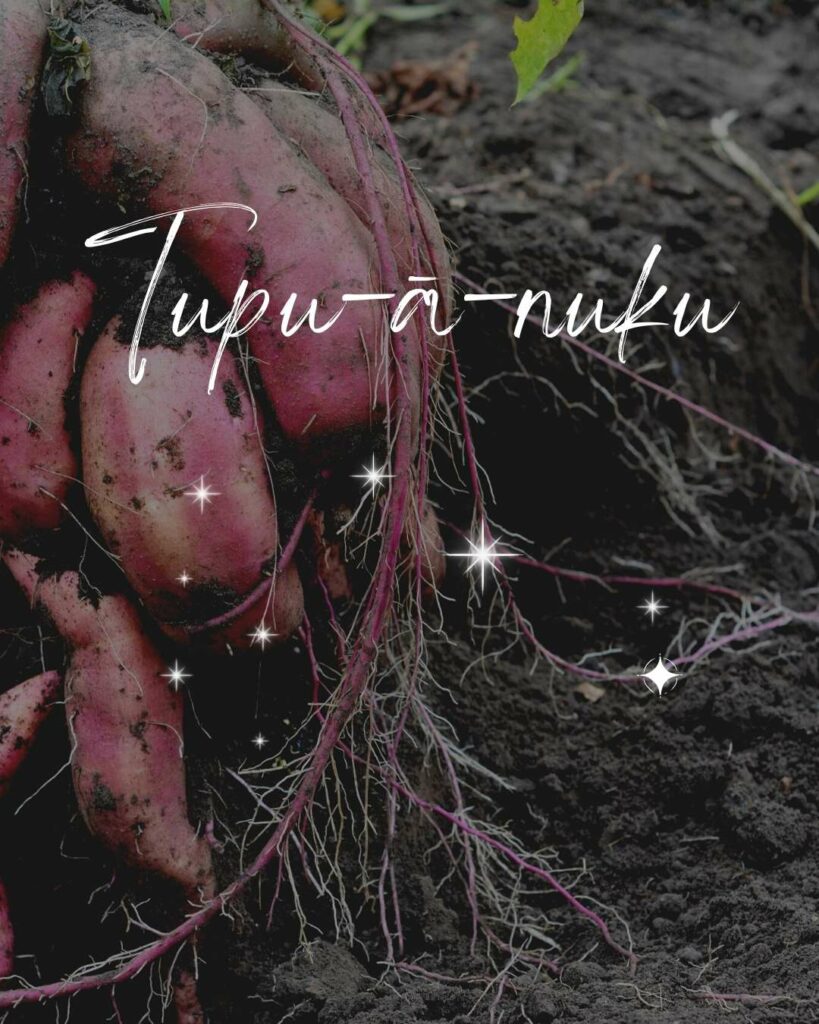 Tupuānuku is the star connected with everything that grows within the soil to be harvested or gathered for food.
Here are a few ideas for how Tupuānuku can inform your mahi with the taiao:
COMPOST!
Soil health is of great importance in ensuring a successful future of food growing. Composting helps to improve soil health, and helps divert food waste from landfills! You can compost at home, we can compost for you via our food scrap service, or we can teach you how to compost at one of our workshops.
MAKE A BUG HOTEL!
Bugs and bees play a vital part in our gardens, helping to break down organic material and pollinating plants. A bug hotel gives them much needed habitat, especially for sections in town. Make your own at home!
DO A VISUAL SOIL ASSESSMENT
Learn about soil quality and soil properties by conducting a visual soil assessment (VSA). The activity involves digging up a 20 cm cube of soil to examine the soil structure and porosity and look for earthworms. This simplified VSA and you could contribute results to the Great Kiwi Earthworm Survey!
TUPU-Ā-RANGI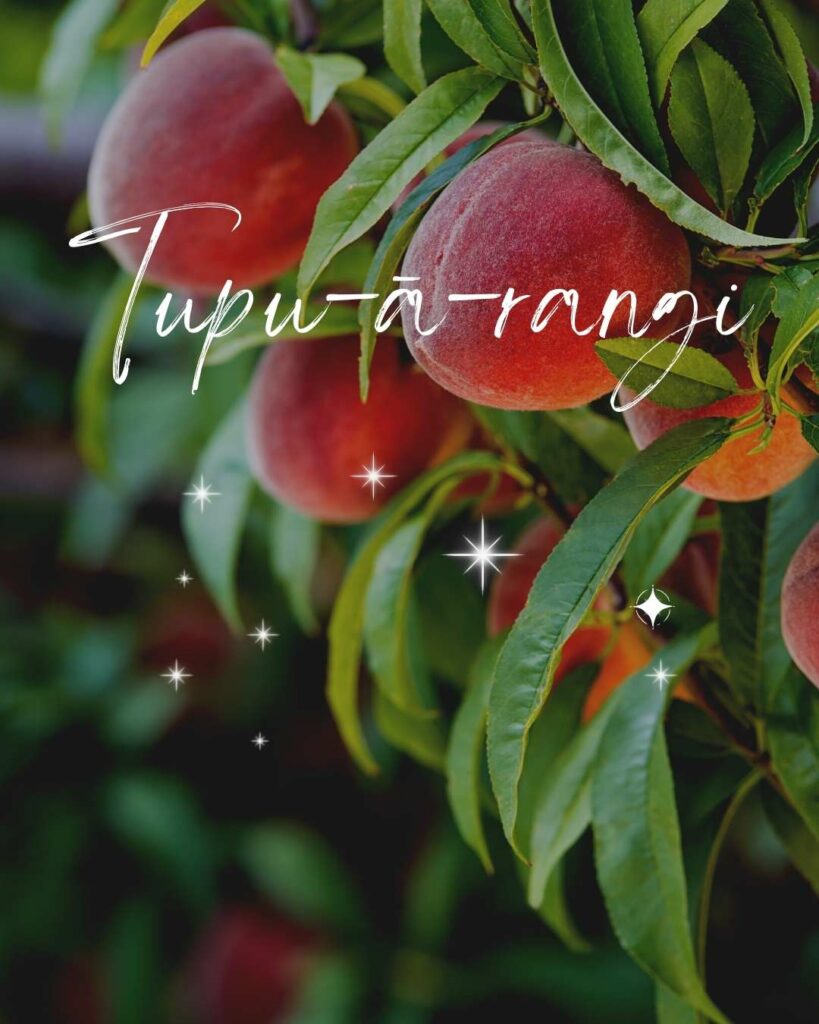 Tupuārangi is connected with everything that grows up in the trees: fruits, berries and birds.
Here are a few ideas for how Tupuārangi can inform your mahi with the taiao:
START A FOOD FOREST
Food forests are a great way to grow a diverse range of foods on a small scale and learn more about the environment. Follow Kaiwaka Food Forest for some local tips on starting yours!
LOOK AFTER OUR NATIVE MANU
The birds in our environment play a vital part in the ecosystem. Without them many ecosystems would cease. See if you can join a local pest-trapping program to protect local manu – such as Pīroa-Brynderwyn Landcare or Shorebirds Trust.
PLANT TREES!
Kaipara was once covered in Kauri forest and kauri gum can still be found in many areas – the only remnants that remain of the once great giants. Let's fill our land with trees that help to reduce carbon in our atmosphere and provide much needed habitat and shelter for birds and humans alike. The Matariki Tū Rākau programme is doing just that!
MATARIKI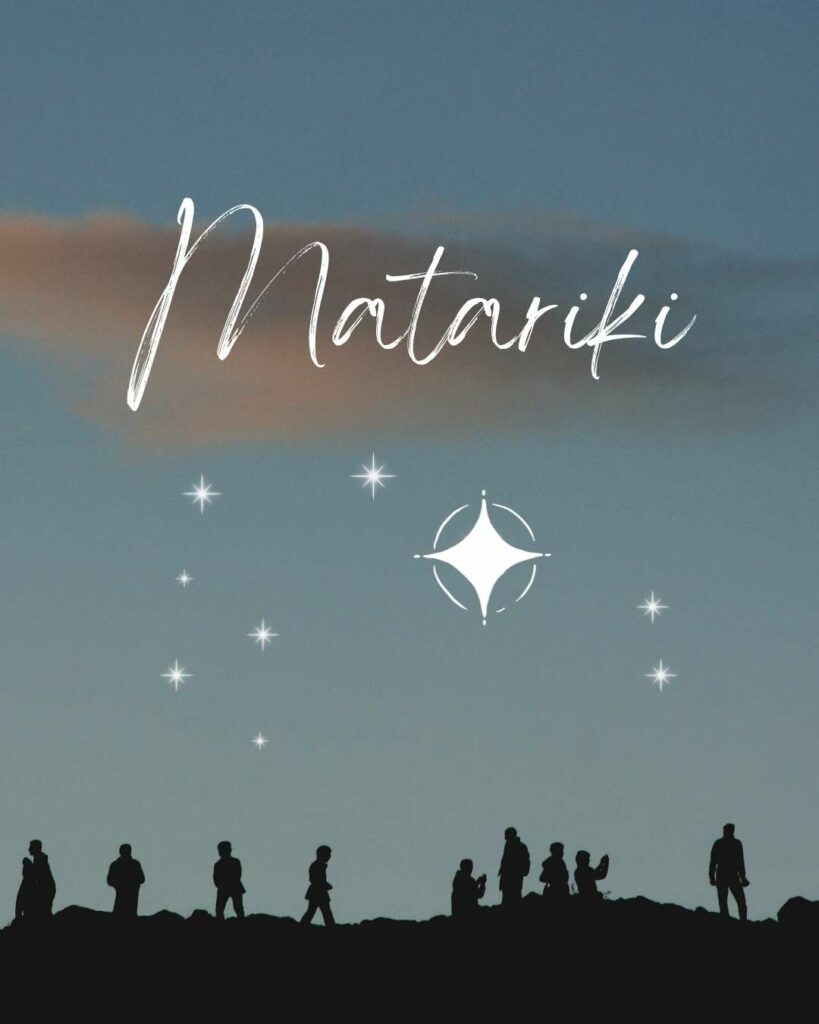 Matariki is the star that signifies reflection, hope, our connection to the environment and the gathering of people. Matariki is also connected to the health and wellbeing of people.
Here are a few ideas for how Matariki can inform your mahi with the taiao:
VOLUNTEER FOR TE TAIAO
There are many fantastic organisations doing amazing work for the environment. You can volunteer for us too! Just fill out the form in our footer and let us know you want to volunteer. Visit this page for more info on other organisations you could volunteer for.
FIND MATARIKI IN THE SKY
Learn how to find Matariki and study the night sky. You can learn more about identifying Matariki, and understanding the stars on the website by Rangi Matamua: Living by the stars.
MAKE MATARIKI ZERO WASTE
Many other holidays in our calendar include buying lots of STUFF. The celebration of Matariki is a much simpler message of rememberance, coming together to share kai and stories, and to plan for the future. Lets protect the Matariki kaupapa together – make your celebrations low/zero waste to support te taiao!

MĀNAWATIA A MATARIKI, MĀNAWATIA TE TAIAO!